2023 Best Detangling Brush Janeke SuperBrush. A Hot Thing!
If you are looking for a perfect brush that would gently detangle your curls and provide the ultimate hair care, then Janeke SuperBrush is what you need.
A best-selling brush on Amazon in 2022-2023, Janeke SuperBrush is the topic of today's article - let's see what makes it so good.
Hairbrushes by Janeke 1830
Before we get into the product features, let's talk a little bit about the brand. Janeke 1830 is an Italian company with a long, rich history that has been manufacturing quality hair care products for over 190 years.
Since its inception, Janeke has been at the forefront of the beauty industry by combining original traditions and innovative technologies.
The company is constantly improving its products to make them even more comfortable and stylish to go along with the modern beauty trends.
Janeke brushes are meticulously handcrafted featuring an original ergonomic design, a large palette of trendy colors, and consistently high-quality materials. Manufactured at a local factory in Italy, Janeke combs have won praise and admiration from women all around the world.
The product the company is most proud of is Janeke SuperBrush, which, thanks to its unique features, has become an absolute bestseller on Amazon in North America.
Janeke SuperBrush - The Original Italian Patent
A real breakthrough in hair care, Janeke SuperBrush is suitable for all hair types - whether your hair is short or long, curly or straight, fine or coarse, it will always look perfect with Janeke SuperBrush.
Made of carbon fiber, this brush also helps to dissipate static electricity, which is especially useful in the cold season when the hair gets static from wearing jackets and hats. Static hair negatively affects the structure of your curls making them thin and weak - and Janeke SuperBrush will help you get rid of static hair.
What else makes this brush so unique?
The patented honeycomb shape isn't there just for the looks - it is a clever technology that ensures uniform heating of hair during blow-drying.
Another great thing about Janeke SuperBrush is that it is hypoallergenic so it is suitable even for children. The brand's products have been tested by Sanitized, which has confirmed a high level of antibacterial protection.
Janeke SuperBrush is currently regarded as one of the best detangling hairbrushes for natural hair available on the market.
What Is a Detangler Brush?
Almost every woman has been in a situation when her brush got stuck in the hair during combing. Already not a pleasant experience by itself, this could cause serious damage to your hair, which is especially true for women with long and thick hair.
Is there a way out? Of course, there is - you just have to use a detangler brush. This is a special type of brush designed for hair that gets easily tangled or knotted. Using a detangler brush will help to gently untangle even the most unruly hair and minimize damage.
Even though there is an abundance of detangling brushes out there, they all serve the same purpose and work pretty much the same: just separate your hair (wet or dry) into a few sections and pull the brush gently through each one of them.
What Is the Best Detangler Brush for Natural Hair?
Using a detangler brush makes your life so much easier - and here is proof:
You get perfect styling in just a few minutes! Detangler brush removes all knots and tangles offering you a really enjoyable styling experience.
The ultimate comfort. The brush gently glides through your hair making the detangling process as painless as possible.
Suitable for everyone. The brush can be used with all hair types and works well with both dry and wet hair.
The ultimate care. Detangler brush helps reduce pressure on your hair and scalp so you won't have to worry about split ends, damaged length, or weakened roots!
Ideal for hair extensions. Detangler brushes help to increase the lifespan of your hair extensions and preserve their original look.
If you're looking for an inexpensive detangling hairbrush, Janeke SuperBrush is a no-brainer.
Why Use a Detangler Brush by Janeke?
If you're still wondering how a simple brush can do all these things, here are some more facts to prove our point:
With Janeke SuperBrush, you can spend less time on styling, which is important when you need to get ready for a date, business meeting, or outing with friends in minutes!
Owing much to its shape, the detangler brush not only allows you to spend less time on styling but also removes any discomfort. You don't have to worry about your hair being damaged during blow-drying.
This brush doesn't just detangle - it also massages your hair
The rounded bristles are harmless for the scalp
The brush is lightweight, ergonomically designed, and comfortable to use
Can be used for applying hair masks and other skincare products
A wide choice of different colors to match your style and mood!
Be sure to read this nice article we did on how to clean a detangler brush.
Janeke SuperBrush Reviews on Amazon
We often talk about different hair beauty products and accessories in our blog providing real-life reviews from people who tried these products.
Here are some of the Janeke SuperBrush reviews we found on Amazon (we left them unedited so please forgive the mistakes):
"To start, I have to say I was a Wet brush only fan. I had tried a few other detangling brushes but none worked better than the Wet brush. At least that's what I thought before purchasing this one! I have no idea what the magic is, but this gets the tangles out of mine and my daughter's hair so easily! I've already thrown away my old wet brushes. I'm seriously so impressed! Superbrush work so much better than any detangling brush I've tried!"
Samantha Sparks
"I absolutely love this hair brush! It is truly the best hair accessory that I've ever owned! Every time I use this brush it feels like it is massaging my head. I love how easy it cleans because of the holes in the brush. I have long thick hair and this press makes it very easy to get any tangles out. My daughter also no longer fusses when I brush her hair! Mom Approved! Highly Recommended!"
Emily
"Beyond pleased with this brush. I was skeptical to say the least. I will never use another brush ever again. I use product in my hair and when I brush my hair with other brushes it rips my hair out. Pulles and is an unpleasant experience. This brush makes knots and snarls a thing if the past no pain no hair pulled out. Amazing not sorry I bought this brush. This is a must-have for kids and adults alike. Highly recommend this brush to anyone and everyone."
Heather
"My daughter's hair is long enough that she can sit on it. Other brushes do not have the length of bristles to really get a good comb out. This brush fits her hand better than any other and the design is such that it also reduces any static electricity. It solves so many problems that she has had with brushes being effective that she is throwing all the others away."
Lindy Cady
"Works great for curly hair! Usually, I would just comb my hair and head out in the morning. My hair is reaching my waist and the comb got annoying. So I decided to look for a quality brush that's not overpriced. And I found this one. I absolutely adore this brush. No tugging or snagging. Absolutely amazing. Makes my morning so much easier."
Kassady Winfrey
"This brush is by far and away from the best brush I have ever owned. I have thick, coarse, waist-length hair and I live in a dry climate. The wrong brush can do a lot of damage to my hair. This brush works on my hair wet or dry. It glides through and detangles without any difficulty. I would recommend it 100%. It's also extremely lightweight and very easy to clean. Very, very satisfied with my purchase!"
Carol Rainey
Where to Buy Janeke Superbrushes in Canada and the USA
Looking where to buy a hair detangler brush in the USA or Canada? Look no further than I Love Slavic Hair. We import Janeke SuperBrushes from Europe and offer them in a wide range of colors. These detangler brushes sell out quickly so you might want to hurry and order now since the color you want may not always be available.
You can order pick-up or delivery within Toronto or elsewhere in Canada and the United States. Just choose the color you like and add the item to your shopping cart.
Products related to this post
Janeke Superbrush Gold/Black
USD $48.05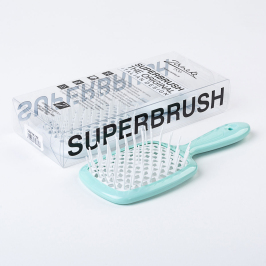 Janeke Superbrush Teal/White
USD $33.03
Janeke Superbrush White/Yellow
USD $33.03