All You Need To Know About Slavic Hair
Slavic hair is a popular term used by hair extension professionals and hair experts. Also known as "Russian/Ukrainian Gold", Slavic hair has the epitome of hair beauty and the synonym for luxury.
After the hair bundles have been prepared for a certain type of extensions, they are exported to North America, England, Europe, and Australia, where Slavic hair is hugely popular among everyone who's looking for top-quality hair extensions.
What Makes Slavic Hair Special
Once you've tried Slavic hair, you will never want anything else! This is the premium level of extensions that you will fall in love with from the first touch.
Slavic hair is soft, thin, shiny, and lightweight hair. It is an ideal choice for women whose natural hair is similar in texture/style and who want to add some thickness, length.
Strands of Slavic hair are characterized by an increased strength (lifespan) and elasticity, they are uniform in length and feature neat, even ends.
Slavic hair often comes in light-brown shades. Natural blond is extremely rare and highly sought after on the extension market!
Top 7 Great Features of Slavic Hair
Slavic hair can withstand any procedure: you can straighten, dye, curl, and style it any way you like. Quality Slavic hair will not dry out and break.
Owing to its natural origin and gentle treatment, Slavic hair always remains soft, voluminous, and silky.
The hair thickness is low to medium, which makes this type of hair extensions more comfortable to wear.
Any color you like: dark blond, brown, black, chocolate, light blond, etc. Light-blond Slavic hair is, in fact, quite a rarity, which makes it more expensive than the other colors: the price per bundle may start at $1,800.
You can choose Slavic hair with any structure: curly, straight, or wavy.
The length typically varies between 30 and 75 centimeters. Longer curls are highly uncommon due to the native structure of this type of hair.
Slavic hair extensions can easily last you more than 1 year, with regular visits to a hairstylist and proper care.
Virgin Slavic hair bundles
What Is Better Quality Hair - Russian or Slavic?
When we talk about Slavic and Russian hair, we often assume they're the same hair type. However, when it comes to hair extensions, these types form two distinct variations. Let's talk about Slavic hair first.
The term "Slavic hair" usually means "virgin Slavic hair". This is natural undyed/untreated hair, which is collected from children and girls in Ukraine and Russia.
Virgin Slavic hair is a product of the highest quality: it has never been chemically treated and/or dyed, curled, and processed in any other way that could be potentially harmful to the hair.
Slavic hair is gently cleansed and sanitized (which does not affect its quality) so you can be sure you get the material for your hair extensions in its original color and texture.
The cuticles are aligned and put together facing the same direction as they grew. This delicate approach leads to the strands becoming softer, silkier, and less prone to tangling.
Since every bundle of Slavic hair is collected from a single donor, you get a unique cut every time - with its own color, length, structure and weight.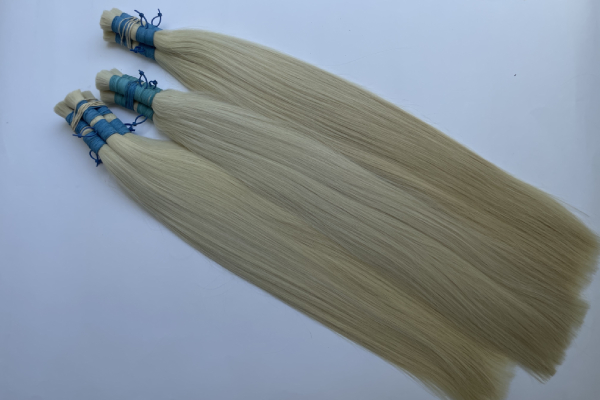 Russian hair bundles (dyed)

Now, let's take a look at Russian hair. Much like its Slavic counterpart, Russian hair is collected from donors on the territory of the Russian Federation, as well some other former USSR countries like Belorussia, Uzbekistan, Tajikistan, and Kyrgyzstan.
However, unlike virgin Slavic hair - and that's the first major difference - Russian hair commonly does undergo certain preparation and coloring.
The second big difference is the texture, density, and color - virgin Slavic hair typically features thin, undyed, soft locks while Russian comes in soft-to-medium density and features a larger selection of shades, so you can choose exactly what you need.
Russian hair is characterized by its high quality, reasonable price, and long lifespan, which makes it a popular choice among hair extension specialists since this material could be 2-3 times cheaper than virgin Slavic hair.
What's the Difference Between Slavic Hair and South Russian Hair?
Here are the main features of South Russian hair that make it distinct from Slavic hair:
South Russian hair is denser and stiffer, which makes it not suitable as hair extensions for women with their own thin and soft strands.
Almost all South Russian hair comes in dark shades. Therefore, the only way to get blonde and light shades is by bleaching them.
South Russian hair is available in different textures - both straight and curly.
How to Find Slavic Hair Suppliers
Being considered as the highest quality hair type, Slavic hair is widely used in beauty salons in the USA, Canada, UK, Europe, and Australia.
Despite (or, perhaps, due to) this, Slavic hair's offer on the market is limited and it is not easy to find suppliers of original products, which may be of the main reasons why this type of hair automatically falls into the category of expensive/high-quality products.
Due to the relatively high cost of raw materials, many smaller beauty salons do not even consider the possibility of working with Slavic hair, which is a shame - the end result of using Slavic hair extensions exceeds all of the client's expectations!
There are two ways you can find a quality, authentic Slavic hair.
Fly to Russia or Ukraine to establish direct contact with the suppliers of raw materials. There, you will have to meet with the representatives of the factories and check the quality of the hair they offer.
The tricky part here is the fact is that some factories may use Asian hair raw materials, passing it off as Russian and Slavic hair. You have to be a very good expert to tell the difference, and the whole process might take you a lot of time and money before you find a trusted supplier.
Look for smaller retailers that offer Slavic hair.
We recommend you going the second way and contacting the smaller suppliers who specialize in this type of hair. I Love Slavic Hair is a perfect example of a supplier like this.
Slavic Hair Supplier in the USA and Canada
I Love Slavic Hair is a Canadian company specializing in all things extensions. We run the whole supply chain - from collecting hair from donors in Ukraine to distributing it primarily in North America.
Among our clients are retail and wholesale buyers in Canada, the USA, UK, and Australia who are looking for a quick, easy, and affordable way to buy authentic Slavic and Russian hair from a direct supplier.
We offer premium-quality natural hair for purchase directly from our website: Russian dyed hair and virgin Slavic Hair.
Our company works both with hair extension professionals and beauty salons that have created an account on our website and with retail buyers, making this type of hair available to everyone who's looking for the best quality hair extensions.
Beware of fake hair!
As we've mentioned before, the current offer of virgin Slavic hair is not enough to satisfy the needs of all buyers on the market. That's why it's not uncommon for some companies to sell Vietnamese, Chinese, or Indian passing them off as Russian or European hair.
Of course, the features of each of these hair types are different. However, many Russian and European wholesalers and distributors still prefer Asian (particularly, Vietnamese) hair for their business. This is because Vietnamese hair is somewhat similar to Russian hair.
If you need premium Asian Remy hair though, you will find it on our website under the "European Hair extensions" category.
If you're looking for the real deal, read this article to learn how to tell the difference between Slavic hair and Asian, Brazilian, or Indian hair.
Products related to this post
Slavic Hair, color 7-8, 55cm-22″, 135 grams
USD $1,029.99
Slavic Hair, color 7-8, 53cm-21″, 111 grams
USD $830.30
Slavic Hair, color 6, 45cm-18″, 117 grams
USD $505.99