How to Wash & Dry Hair Extensions Properly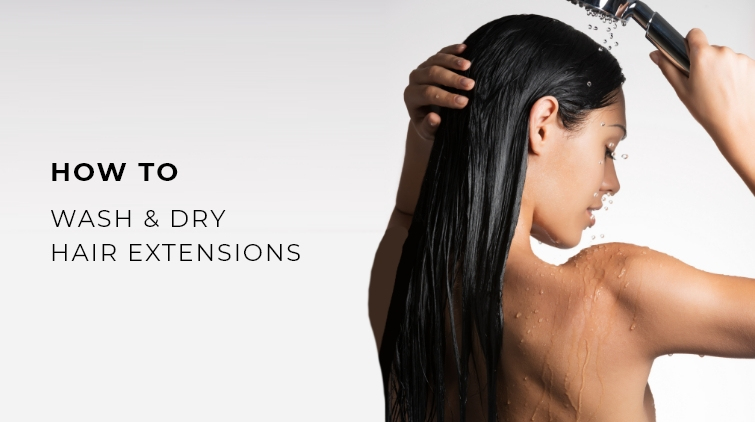 If you are planning to get hair extensions any time soon, this article will be extremely useful for you since it covers a very important but often overlooked topic of how to wash human hair extensions.
You will learn everything you need to know about washing and drying hair extensions properly, depending on their type.
How Often Do You Wash Your Hair With Extensions?
Every woman wants to be a goddess and look accordingly. Everything has to be perfect - from the goddess's head to her toes, and that means hair too.
Hair extensions are a perfect solution for women who want to add a bit of style and beauty to their look. It's natural, it's gorgeous, it's convenient! But there's one "but" - you have to look after your hair extension, and that includes washing and drying them as well.
How do you do it right? We've got a whole article to answer that question and many other questions hairdressers often get from their clients. Let's go!
Can You Wash Your Hair With Extensions?
Yes, you can! Moreover, you should - hair extensions require the same type of care your natural hair gets.
If you want your hair extensions to last longer and look as good as on the first day, you need to wash human hair extensions regularly - like you would do before you got them.
Also, if you use cosmetic hair masks, be sure to apply them not too close to the points where hair extensions are attached (whether it's keratin bonds, microlinks, or tapes) or you risk losing them (especially true for cold and hot fusion extensions).
Can You Wash Your Hair Everyday With Extensions?
For women who lead an active life, it is even more important to look beautiful and fresh every day! Thankfully, hair extensions allow you to do that - you can wash them once a day as you would normally do with your natural hair.
No need to break your morning rituals: a nice shower, a cup of hot coffee, a tasty meal while you're checking your social media - this is too perfect to be ruined by some limitations.
Washing Your Hair With Different Types of Extensions
As you may remember from our previous blog post, different types of hair extensions require different types of care - and that applies to the washing aspect too. Let's get into more detail on how to wash human hair extensions. The main difference lies in the type of your extensions - whether it's permanent or temporary hair extensions.
Permanent Extensions
Permanent hair extensions would typically last you anywhere from 2 to 4 months and they do require a hair professional for application/removal. However, when it comes to hair care, you can easily do it on your own.
Common rules on how to wash human hair extensions:
Brush your hair thoroughly to get rid of any knots, tangles, and shed hair. For more information on what type of brush to choose for hair extensions, please read this article.
Do not wash your hair extensions with water that's too hot or too cold - just keep it pleasantly warm.
Squeeze some shampoo into the palm of your hand, foam it up and gently work it through your hair.
What's the best shampoo to pick? It depends on several factors: whether you are allergic to certain components, your natural hair type, and how often you wash your hair in general.
Do not use shampoos that have aggressive components in their formula or sulphate-free shampoos only. Even though sulphate-free shampoos feature supposedly natural ingredients, they are hard to foam and not very good at thoroughly washing your hair.
Be sure to wash your hair with shampoo twice!
After you applied the shampoo, rinse your hair and scalp completely. Be easy on your hair, do not twist or pull them too hard.
Then, apply some conditioner - just make sure you avoid the following areas: follicles, bonds, and tapes (basically, do not apply conditioner to the points of attachment of your hair extensions).
You can use a hair mask but no more than once a week. Using it more frequently may lead to your hair losing volume.
Rinse the hair mask or conditioner with lukewarm water.
So those were general tips on how to wash your hair extensions. Now, let's focus on certain aspects of washing different types of permanent extensions.
How to Wash Tape-In Hair Extensions
Do not pull too hard on the tapes or you risk damaging them
Do not apply hair conditioner or mask directly onto the tape at the point of attachment
Do not use hair care products that contain various oils to prevent the tapes from sliding off
Do not use dry shampoos or hair powder since they might get inside the tapes
How to Wash Fusion Hair Extensions
Can you wash your hair with glue-in extensions? Of course, you can. Moreover, you should! The general tips on washing keratin bonded hair extensions are more or less the same as with other types:
Do not pull on the bonds while they're wet
Do not apply hair conditioner or masks directly onto the bonds
Avoid using hair care products that contain oils
Do not use dry shampoos or hair powder too often since they might get inside the tapes thus reducing their service life
When washing your hair extensions, keep your in the vertical position to prevent the bonds from tangling up
Blow-dry with caution using mildly hot air
How to Wash Sewn-In Hair Extensions
Do not rub the shampoo into your scalp too hard, especially in the points of attachment of hair extensions
Do not apply hair conditioner or mask to the points of attachment of hair extensions
Avoid using hair care products that contain oil
Temporary Extensions
This type of hair extension is best in terms of versatility and ease of application. Most of the time, you can even do it yourself changing your style and experimenting with your look as often as you wish.
How to Wash Clip-In Hair Extensions
Remove hair extensions from your head by gently unclipping them. Clip-in hair extensions are washed separately
Brush each weft thoroughly
Fill up a sink or small plastic tub with lukewarm water
Wash your hair extensions applying the same tips we've mentioned for permanent extensions
This method also works for halo extensions and ponytails. Now that you know everything about how to wash clip-in human hair extensions, it's time to talk about drying.
How to Dry Human Hair Extensions
Washing your hair extensions is just the first part. In order to preserve the gorgeous look and extend the service life, you also need to dry your hair extensions the right way. How? Let's take a look!
Should You Let Hair Extensions Dry Naturally?
The short answer is no - mainly, due to the fact that wet hair is more vulnerable and prone to damage. That's why you should always use a blow-dryer to dry your hair extensions and never go to sleep with wet hair.
Can You Let Hair Extensions Air Dry?
What if you're not a big fan of blow-drying and want to let your hair dry naturally? Well, you can do that, to a certain extent. You will still have to use a blow-dryer to dry the roots of the hair and the points of attachment of your hair extensions. Other than that, air-drying is ok to use.
However, you should still do it with caution since leaving your hair extensions wet for too long can harm your natural hair. Also, not using a blow-dryer will make your hair more difficult to brush.
How Do You Dry Hair Extensions Quickly?
All you have to do is use a good blow-dryer. However, be sure to use the medium-to-low temperature/power settings to avoid damaging the bonds or tapes due to excessive heat.
Do not brush your hair extensions when they're still wet to avoid breakage. Dry your hair first and then brush it thoroughly working your way from top to bottom.
Here's a nice article on how to brush your hair extensions - be sure to read it too.
How Long Does It Take to Dry Hair Extensions?
It all depends on the length, density, and thickness of your hair. On average, thorough blow-drying should not take you more than 15 minutes.
That's it for now. Let us know if you have any questions by leaving them in the comments below and be sure to share your hair extension washing and drying tips.
Comments