How to Choose the Right Hair Extensions for Very Short Hair?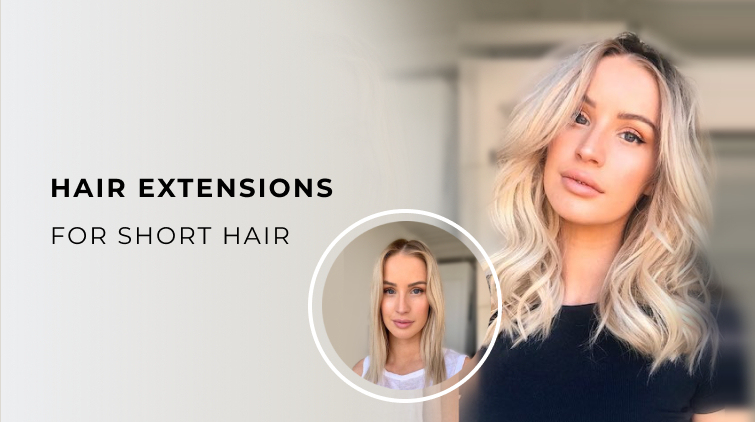 Curly hair should be straightened, and sleek hair - curled. Long hair should be cut off into a bob, and short hair - grown out long.
The first three tasks are easy to solve, but growing long hair quickly out of a bob or pixie cut is a challenge.
However, there is no reason to be upset: I Love Slavic Hair knows how to help you with your new hairstyle!
Opt for hair extensions on very short hair, and you'll get the hairstyle of your dreams.
Regardless of the haircut or the structure of the strands, we know which type of hair extensions will enhance the beauty of your hairstyle and will look like it's your natural luxurious long curls.
Can You Use Hair Extensions On Very Short Hair?
Hair extensions are a great opportunity to get the hairstyle of your dreams without waiting for your natural hair to grow out. However, there are plenty of things to consider when choosing hair extensions, because not all solutions work great for everyone. So can you get extensions for really short hair?
Spoiler: Yes, you can have extensions with your short hairstyle.
This beauty procedure is possible if:
Natural hair is not too short
How short can your hair be for extensions? The minimal length is 3 inches.
However, we recommend making hair extensions for longer strands - they will hide the place of attachment so that the hairstyle will look natural.
Your natural hair is thick and dense enough
Weak hair cannot carry the weight of the extended strands.
In order not to overweight the roots and cause their damage, opt for short hair extensions, no more than 4 inches longer than your natural hair. They are easier to blend in, allow a gradual transformation of your look and are less heavy.
You chose the right type of hair

So, the best hair extensions for fine hair are virgin or dyed Slavic hair. These are soft curls of delicate structure, which are great for those with weak thin hair.
If you have more dense dyed hair, we recommend the Russian hair type. Here you will find a wide selection of different textures and shades, so you can easily choose the best option to transform your styling.
If your hair is very thick and dense, and you just want to make them longer, then pay attention to our European hair. This is exactly what you need!
You have chosen the right extension technique
If not for the short length, you could go for almost any technique. However, in this case, it is important to know what extensions are best for short hair.
Among all the techniques we recommend Keratin tip hair extensions. They are easy to blend in and are often used for various haircuts.
Another popular question: what type of extensions to use on very thick short hair?
We also recommend fusion hair extensions (also known as k-tip hair extensions). However, instead of standard-size bonds, it is better to use micro bonds: they are less noticeable.
Alternatively, you can go for hand-tied weft extensions (if the length of natural locks allows). In this technique, extended strands are weaved into the braids made around the head.
In both cases (fusions and hand-tied extensions) a small weight of hair should be used to avoid weakening roots and causing strands to fall out.
Permanent hair extensions for short hair
Choosing the appropriate technique of permanent extensions for short hair often depends on the skill level of the hairstylist. In other words, your hair tech masters one particular technique and assures you that it is suitable for you.
However, even the coolest skills do not guarantee that hair extensions will be invisible.
For example, it is impossible to adapt tape-ins for permanent hair extensions on pixie cuts, because they will be too noticeable. In addition, this type of hair extensions can be damaging, as the hair is too short to carry tapes.
To make it easier for you to understand what to choose for your hair, we have compiled the best permanent extensions for short hair.
Pre-bonded Extensions for Short Hair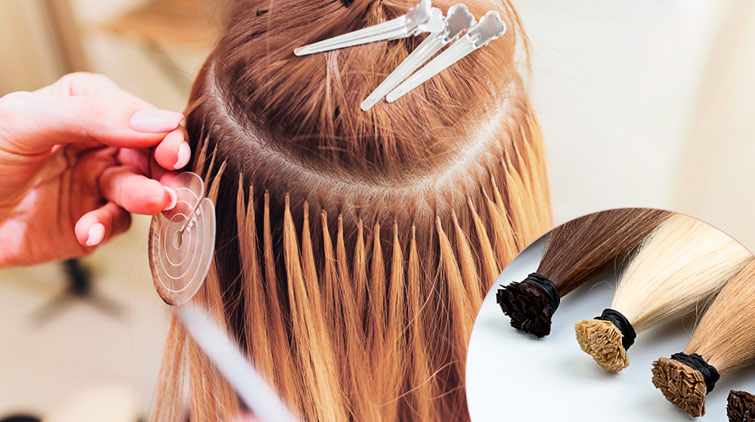 The absolute leader of our list is fusion hair extensions! This is the best you can choose if you have a short haircut.
This method is preferred by celebrities with long hair, who often change their looks: Kim Kardashian, Rihanna, Zendaya, etc.
Keep reading to know how to glue extensions on very short hair:
Opt for micro keratin tip extensions.
First of all, they're invisible.
Second, such bonds are lighter and will not damage natural hair. The weight of standard keratin tips is 1 gram per strand, while micro tips weigh 0.6-0.8 grams per strand.
Give preference to gel keratin
High melting point Italian keratin comes in three colors: transparent, brown, and black.
In turn, gel keratin offers a greater variety of colors: you can choose a shade that will perfectly match the color of your hair, to make the bonds invisible.
Tape-in Hair Extensions for Short Hair
If you Google what to choose for short hair, you will see that many sources recommend tape-ins. We strongly disagree with that.
Tapes are suitable only for those with long thick hair from 10 inches (25 cm) long, to hide the tapes.
Judge for yourself: the length of the tapes is 18-22 inches, and the width is 1.5 inches. You will not be able to hide the tape in a short haircut!
In addition, the tapes are more damaging (especially for thin hair): don't do this to your hair!
Clip-in Extensions for Short Hair
Another recommendation that is often found on the Internet is to use clip-in extensions.

They are very convenient because you can apply them on your own in a couple of minutes, and turn yourself into a goddess for a wedding, birthday, or any other occasion. And the next day you can enjoy again the freedom of your short haircut.
However, clip-ins can be quite noticeable in short haircuts. That is why many celebrities with long hair prefer wigs instead - modern options look quite natural and stylish.
If you still want clip-ins, consult your hair stylist. Or contact I Love Slavic Hair: we can make custom-made clip-in hair extensions taking into account all the features of your hairstyle.
How to Hide Extensions in Very Short Hair
Here are the TOP 3 ways how to hide hair extensions in short hair:
Choose the right technique and make sure that the stylist really masters it.
Check out their work and testimonials from other clients. The extended strands should be placed under natural hair, and be invisible.
Also, ask the hair tech to use keratin of the same color as the roots of your natural hair.
Buy quality material
Just contact I Love Slavic Hair, and we will help you choose the best quality natural hair to match the color and structure of your hair.
All products of our brand undergo delicate processing without the use of harsh chemicals, so the hair for extensions is absolutely safe for health.
You can choose any desired structure, length, and shade: we have everything to create the perfect hairstyle!
Adjust your haircut
This is another way, how to seamlessly blend short hairstyles with extensions.
It is especially important for those with thick hair. For example, if you have a blunt bob hairstyle, you can slightly change the cut before the extensions to hide the cut line.
How Long Is Enough for Short Hair Extensions?
If you have a too short haircut, you can opt for very short hair extensions. In this case, the extended strands should be no longer than shoulder-length.

We have mentioned before that the minimal hair length for this beauty treatment is 3-4 inches.
To make it easier for you to understand what will work for you, check out our hair extension lengths chart.
Pixie Cut: How to Hide Extensions in Very Short Hair
We often get asked whether it is possible to make extensions for such an ultra-short haircut as a pixie.
You can go for the k-tips hair extensions technique, with micro- or even nano-bonds (they look like grains of rice).
However, we would still recommend growing out your hair a little bit: to be sure that the extensions look natural and blend seamlessly.
In addition, not every hair tech masters the nano bonds extensions method: the procedure takes a lot of time, is difficult, and requires a special knowledge on how to install such extensions right.
What Hair Extensions Are the Worst for Short Hair
We have already mentioned that tape-ins and clip-ins are not designed for short cuts. But many hair stylists, on the contrary, recommend these techniques (which, in our opinion, is incorrect).
However, there are 2 less commonly mentioned techniques that do not work for short hair:
Sew-in hair extensions (hand-tied and machine wefts)
This is a great way to change your hairstyle. But for this hair extension type you need to make a thin braid around the head. Natural hair might not be long enough for it.
If the hair is long enough, then we highly recommend this method: the braid is as invisible as possible and will not hurt your curls!
Most importantly, give your preference for hand-tied wefts. Unlike the larger and heavier machine wefts, hand-tied wefts are thinner, lighter, safe for health, and comfortable in wearing.
Micro links
The strands are fixed with small beads. They are tightened with special pliers.
This method can damage natural hair. And also beads can be very noticeable in the hairstyle.
Still have doubts about what to choose for yourself?
I Love Slavic Hair is ready to remove all your doubts! We sell the best natural hair and will recommend the best extension technique to make you 100% satisfied with your new hairstyle!
Products related to this post
Ombre Blonde #613 K-Tip Hair Extensions
USD $359.60
Jet Black #1 Clip-in Hair Extensions
USD $394.13