Best Hair Extensions for Wedding
When it comes to marriage, every bride wants to look perfect. To look as stylish as on the Pinterest boards, you need to make sure in advance to choose the best hair extensions for your wedding day.
Hair extensions are one of the most popular life hacks that girls use, preparing for their special day. They will make the hairstyle more voluminous or add the desired length.
It remains to determine the best extensions for wedding hair that will suit you. We are here to help you solve this problem and make the wedding hairstyle look really irresistible.
Hair Extensions for Bridal Hair
Preparing for your own wedding, you probably have a precise idea of what hairstyle you would like to make.
But the reality is often far from our imagination. It can be difficult to make the desired hairstyle due to a short length or insufficient hair volume.
However, this is not a reason to give up the dream, especially on the wedding day!
All you need to do is to make hair extensions that will allow you to create any hairstyle you wish.
So, how to choose the best bridal hair extensions? More on that below.
Choosing the Best Bridal Hair Extensions. Steps to Follow.
1. Start preparing in advance
A lot of girls go on a diet before their wedding to wear their dream dress.
The same concerns to the hairstyle: you better start prepping well in advance to be sure that everything will be as it should be.
We recommend that you find a hair stylist, make an appointment for the procedure and choose the right type of hair and an extension method.
Ideally, you should make hair extensions about a month or at least a few weeks before the ceremony.
If you plan to use clip-ins, it is also better to prepare in advance, as their production and delivery take some time and you need time to practice how to fix them correctly.
2. Make an appointment before the wedding
This is especially important for those girls who choose permanent hair extensions.
After a few months of wearing hair extensions your natural hair will grow out, so you need to refresh your hairstyle.
3. Do a hairstyle trial
This way you can understand if a chosen hairstyle harmonizes with the rest of your look and if it is comfortable to wear.
Best clip-in hair extensions for wedding
Clip-in hair extensions are considered the best choice for the wedding day:
Spectacular look when needed
You don't have to wear hair extensions constantly: just attach clip-ins and style them as you planned.
You will be able to take off the extensions immediately after the wedding and return to your usual hairstyle.
Does not require any care and reapplication procedures
Unlike permanent extensions, such styling does not give clients any trouble.
You do not have to choose special hair care cosmetics and accessories, as well as regularly spend money and time on reapplication procedures.
This method is considered the least damaging type of hair extensions and is one of the safest ways to change the look of your hair. It does not damage your natural hair or weaken the roots, as clip-in hair extensions are worn for a very short time.
Where to Buy Clip-ins?
Here are a couple of top-rated brands, offering the best clip in-extensions for wedding: Luxy Hair, Glam Seamless, Bellami, Zala hair, etc.
But if you want to order something special, then you should pay attention to custom-made clip-ins from I Love Slavic Hair, which are made accordingly to your specifications from natural Slavic hair that is considered the best in the hair extension market.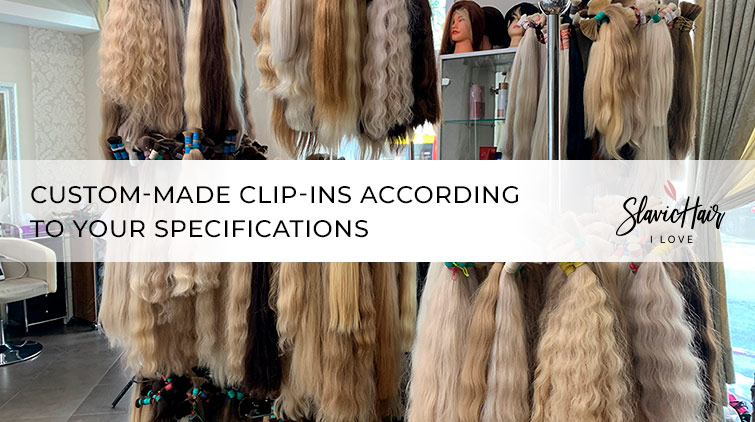 You can choose:
1. Optimal hair type
We all have different types of hair: straight, wavy or curly. Also, it can be thin and soft or, on the contrary, thick and dense.
So, if you want the hairstyle to look natural, it is important to choose hair that will look harmonious with natural locks.
Virgin Slavic hair is suitable for all those who do not color their hair or who have naturally very thin and soft curls.
Russian hair type is optimal for brides with medium to thick hair. You will be able to choose the desired shade, length and structure.
European hair is the best option for all those with dense thick hair who want to get the maximal length. Hair up to 90 cm long is available in this lineup on our site.
2. Desired length and volume
By choosing custom-made clip-ins, you will get the type of hair, the number of wefts and their width, which suit you perfectly and will help to make the hairstyle of your dream.
3. Color identical to your natural hair
Thanks to this, the extended strands will not differ from the natural hair. Although, even if you are a little bit wrong with the color, the hair from I Love Slavic Hair can be dyed, so you can easily correct the color.
Keep in mind that processing a custom order will take some time. We need to choose the perfect hair bundle for you, make clip-ins, and then ship hair extensions to you.
We recommend that you address this issue a few months before the ceremony.
Best Clip-in Hair Extensions for Short Hair for Wedding
Clip-ins are also good for those with short haircuts.

However, your hair should be long enough to hide the fixation point of hair extensions. Ideally, they should not be shorter than 3-4 inches (7.5-10 cm).
Best Permanent Hair Extensions for Wedding Day
Not all brides choose clip-ins, and here's why:
Not suitable for a half up half down hairstyle
The thing is, in this case, you will not be able to hide the fixation point of clips.
Best hair extensions for half up half down hair for a wedding are the hand-tied weft or keratin tip hair extensions.
In the case of hand-tied wefts, a thin, unnoticeable braid is made around the head, then a ready-made weft is sewn into it. It allows you to make any hairstyle you wish.
As to the fusions hair extensions, the extended strands are fixed with keratin tips. Choose an experienced hair stylist that works with color keratin glue beads to match your hair color, and then this beauty treatment will be invisible to others.
You want a spectacular hairstyle not only for the wedding
For example, you plan to go somewhere on your honeymoon or just want to keep your hair long and voluminous for a long time.
In this case, we also recommend k-tip hair extensions or sew-in hair extensions.
At the I Love Slavic Hair online store you can always choose natural hair for these two hair extension techniques.
You don't want to worry about your hairstyle during the wedding
Improperly attached clip-ins can slip off.
That is why many girls choose permanent extensions that will not fail at the most important moment.
Don't Use These Hair Extensions for Your Wedding Hair
Tape-ins are least likely hair extensions that don't suit the wedding day and can be visible on the bridal hair.

In this technique, the hair is fixed with tapes on the principle of a sandwich, with your natural hair inside, and tapes on top and bottom.
This method of strands application is much more noticeable than any other extension type.
The tapes are more traumatic for natural hair and are strictly contraindicated for those with thin damaged curls.
We also do not recommend micro links.
In this case, hair extensions are fixed with beads with silicone lining tightened with special pliers.
As with tape-ins, such an extensions technique can damage your curls or may be too noticeable in your hairstyle.
Now you know all about the best extensions for the wedding day.

Whatever you choose, I Love Slavic Hair products will give you an unparalleled sense of confidence and will make your wedding hairstyle the most beautiful.
We work with the best hair in the extension market. All products pass strict quality control and delicate processing. A special feature of the brand is the possibility to order hand-made hair extensions in accordance with your specifications, so you will be able to get exactly what you need.
Be happy and may your love shine warmly on your wedding day and forever!
Products related to this post
Ombre Blonde #613 Hand-tied Weft Hair Extensions
USD $487.22
Light Brown #4 K-Tip Hair Extensions
USD $349.09
Dark Brown #2 Clip-in Hair Extensions
USD $401.64